We are in network with the majority of all medical insurance plans carried in the state of Oklahoma. Please provide us with the name and group number of your insurance, and we will be happy to help you determine your coverage. Regardless of your insurance, we will work with you to ensure that you receive all of the benefits afforded to you from your plan.
If you have any questions about your specific coverage and provider options, please call us in Stillwater at (405) 372-1715.
Payment Plans with CareCredit®
As a service to our patients, we are pleased to offer the CareCredit® card, the nation's leading patient payment program. CareCredit® helps you pay for out-of-pocket healthcare expenses for you and your family by making low monthly payments. In our office, CareCredit® can be used to pay for all eye health and vision care including glasses, contacts and refractive surgeries like LASIK.
CareCredit® offers a comprehensive range of no-interest and extended payment plans for vision care needs from $1 to over $25,000.
NO-INTEREST PAYMENT PLANS
6 & 12 month plan options
No interest if the balance is paid within the specified time period
Low minimum monthly payments
EXTENDED PAYMENT PLANS
24-, 36- & 48-month plan options
For procedure fees from $1,000 to over $25,000
11.90% interest rate
Monthly payments as low as $25 for a $1,000 fee balance
With CareCredit® you pay no upfront costs, no pre-payment penalties, and no fees. Plus, CareCredit® is a revolving credit line for additional treatment or add-on charges, without the need to re-apply. It only takes a few minutes to apply for CareCredit® and you may receive an online decision in seconds! Apply now below, or see our team for more details.
FINANCIAL POLICY
Affording the care you need and want for your eyes is important to us. That's why we offer a variety of payment options for you.
Visa, MasterCard, American Express, and Discover
Check
Cash
CareCredit® Financing
All fees are due at the time service is rendered. For assistance in making financial arrangements, contact us and speak with one of our team members. They are happy to assist you.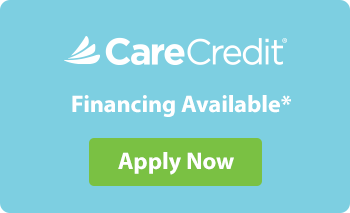 Special Promotions
Like most of our patients, you will likely need more than one pair of glasses to satisfy all your visual needs and wants. Therefore, you can take advantage of our rewards program* when you purchase multiple pairs of eyewear.
$50 OFF
Purchase a complete pair of single vision, bifocal, or trifocal glasses and receive $50 OFF* each additional pair purchased.
$75 OFF
Purchase a complete pair of progressive (no-line bifocals) and receive $75 OFF* each additional pair.

*This savings cannot be combined with other savings, discounts, or VSP insurance plans.
We Look Forward to Hearing From You!